Alain Rustenholz
Alain Rustenholz, historian and author of fifteen books, half of which devoted to Paris. ""Because a silent city is – in his own words – a ghost city", he undertakes in his books and guides to make stones speak, to give the city a voice; to give a voice to those who no longer have or never had one. Inspired by Michelet, he sees history as a resurrection.

He devotes the website: "Les PARIS d´Alain Rustenholz" to the capital. On paper, he has notably published: Paris des pas perdus, Parisienne (s), Paris Ouvrier, Paris des avant-gardes, Paris the dreamed city of Voltaire, Traversées de Paris; all at Parigramme.
His visits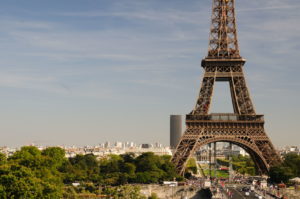 Champ de Mars and the Eiffel Tower
BY Alain Rustenholz
The orthonormal landmark of the French Revolution
"The Revolution has for monument… emptiness. The Champ de Mars, this sand [at the time when Michelet wrote, it was a racecourse], as flat as Arabia… this is the only monument it has left ". This is how the professor at the Collège de France prefaces the first volume of his History of the Revolution in 1847. Forty years later, on this void, another begins to rise: a pylon like all the other hollows and openwork, and like them without any figurative intention, but devoid of any utility, abstract, pure interweaving of lines but nevertheless, in its construction, "the highest monument on the globe", and the only modern, the only contemporary, in one word: revolutionary! We will walk through this orthonormal landmark of the Revolution: on the abscissa, on the Champ de Mars, the capital Revolution of 1789; on the y-axis, mounting the Eiffel Tower, the industrial, technical, scientific revolution, its worthy heiress a hundred years later.