Ulrike Kasper
Ulrike Kasper is a painter and art historian. For nearly twenty years, she has been teaching modern and contemporary art at various universities in Paris (Sorbonne – Paris III, Université Américaine à Paris, Université des temps libres à Evry Courcouronnes, Institut d'histoire de l'art de Chatou). Ulrike has published articles and books on the arts, architecture and music and has collaborated in the creation of the contemporary gallery of the Museum of the Cité de la Musique. The city of Paris has become one of her passions, in her lectures, she describes visits integrating history, architecture and the arts, and forging links between the historical Paris and the contemporary world.
---
Her visits
The selected post has been removed or doesn't exist…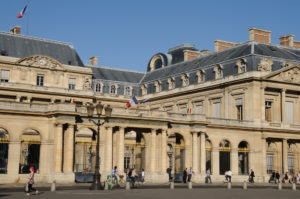 Paris – The Palais-Royal
BY Ulrike Kasper
Let us guide you through a fascinating walk, and discover the hidden and historic treasures of this monument, but also those of the surrounding galleries.
Few places bear witness to such a concentration of historical events: between seizures of power, revolts, parties and ephemeral pleasures, the palace sometimes welcomes the aristocracy, sometimes the people. People like Richelieu, Corneille, Louis XIV, Molière, Lully, Diderot, Desmoulins, Charlotte Corday, Colette and Cocteau have lived there or have frequented its galleries, theaters and cafes.